Let Syrah Be Syrah
Syrah makers resist American shiraz...



By Jonathon Alsop
May 1, 2005



If I'd had a mouthful of wine, I'd have done a spit take the first time I spotted the Ravenswood Shiraz.

Oh, how the mighty have fallen to bad marketing, I thought: a California giant has begun calling its California syrah by the Australian name shiraz. Next week's column was practically writing itself, heavy in words like shameless, shallow, opportunistic, and marketing. The venom flowed like poison.

As I worked my way deeper into an indignant froth, I also crept a little closer to the bottle, close enough to see it was in fact Australian shiraz under the Ravenswood label, more or less what you'd expect if you weren't looking for a fight.

Much to their credit, Ravenswood got on the shiraz bandwagon the old-fashioned way: by actually making, bottling, and selling Aussie shiraz. Many more have taken the shortcut of simply re-naming every syrah they own.

Logic reveals the brilliance of this thinking: 1) we make syrah, 2) people love shiraz, 3) we love people to love our wine, therefore: call everything we make shiraz!

It's hard to blame them, of course, until the first time you see a syrah-shiraz blend on the shelf, then it becomes easy to blame them. As one winemaker lamented, "Sometimes you eat the marketing folks, sometimes the marketing folks eat you."

Although plenty of west coast wineries are making shiraz from their syrah these days, many are resisting the allure of popular nomenclature, many more than I'd have expected. Maybe I'm cynical, but my money would have been on a massive re-labeling campaign instead of the resurgence of truth in advertising.


2000 Columbia Winery "Red Willow Vineyard" Syrah (about $35) and "Columbia Valley" Syrah (about $15, both distributed nationally)

We tend to think of syrah as a hot climate grape. Southern France is an excellent expression, but the best come from northern southern France, not the broiling seaside. Cool Washington has been producing fantastic and affordable syrah for a few years now (yes, much of it labeled shiraz).

Columbia Winery has put two important stakes in the ground with these two wines. The single-vineyard Red Willow syrah is classic, restrained, civilized and refined. The more generic Columbia Valley, on the other hand, is outgoing, likeable, young, friendly and fresh. Any other Washington syrah that comes along is going to have to react to these two flavor profiles, and it will be a hard act to follow.

Red Willow is a southeast Washington vineyard that supplies much of Columbia's single-vineyard fruit. The first west coast syrah planted outside California was in this vineyard in 1986. The wine is lean and bracing with clear-as-a-bell red fruit flavors and bright, explosive tannins. Columbia Valley syrah is a great buy that will remind you of jam and jelly.

Right now, the buy flag is up on everything from Columbia. Be on the lookout especially for the Sangiovese and Viognier.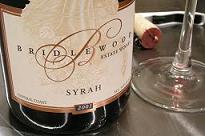 2001 Bridlewood Syrah (about $18, distributed nationally)

Here's a California syrah that's thoroughly modern, free from any comparison to classic Euro-syrah, and off in its own 14.8 percent alcohol orbit. If we had tasted it blind, I think everyone would have guessed zinfandel because it's so dense and ripe -- almost over-ripe, like prune, fig and date -- and over-the-top in spice and alcohol.

A good food match would be a very spicy barbecue sauce, or a hot meat rub on the grill. Anything subtle will be overwhelmed. This wine is so big, I'd recommend drinking it outside.


2001 Redwood Creek Syrah (about $9, available literally everywhere, distributed by Gallo)

This syrah keeps it simple and direct: focused fresh fruit, a little soft toasty oak, nice bristling tannins, less than $2 a glass. It falls somewhere in the middle of the syrah spectrum: much lighter than an Aussie shiraz, much friendlier than any old-world syrah.